August 2016 saw my first visit to Cornwall. I've been to numerous destinations boasting exotic beaches, and the attraction for many (including myself) has been the fact that 'it's not Britain'. Like it or not, the UK simply doesn't measure-up against the European collective suntan central, including the south of France, Spain and Greece, but don't book those intercontinental flights just yet.
While Britain as a whole may struggle to impress sunshine seekers, Cornwall should be thought of as an entirely separate entity. My week-long trip to the most southern regions of Cornwall involved setting foot on astonishing landscapes and enjoying class-leading beaches. So which bits are the best? Here's my take.
Land's End
There's something strangely tingly about standing on the edge of a country with nothing for miles and miles but ocean. Land's End, situated as far south-west as you can go before hitting water, is a focal point of both Cornwall and British coastal attraction.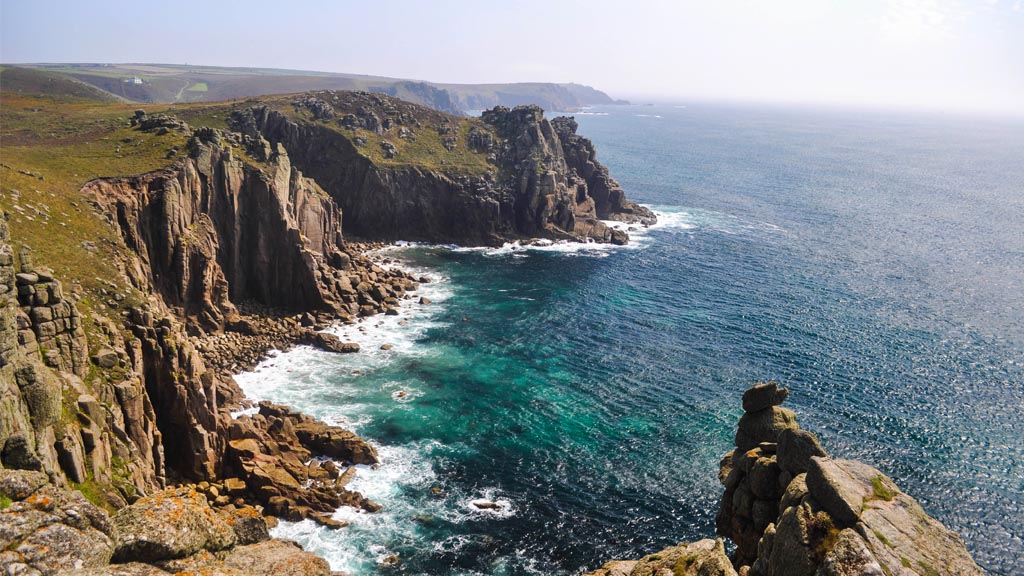 The rugged and decaying coastline making up Land's End has fallen victim to great coastal erosion, resulting in a rocky landscape formation. Bad for the earth, but perhaps good for fans of rough coastal scenery.
A coastline path leads safely around the edge of Land's End, leading south to Nanjizal Beach, providing walkers with safe vantage points of both the rugged cliffs and the Celtic Sea.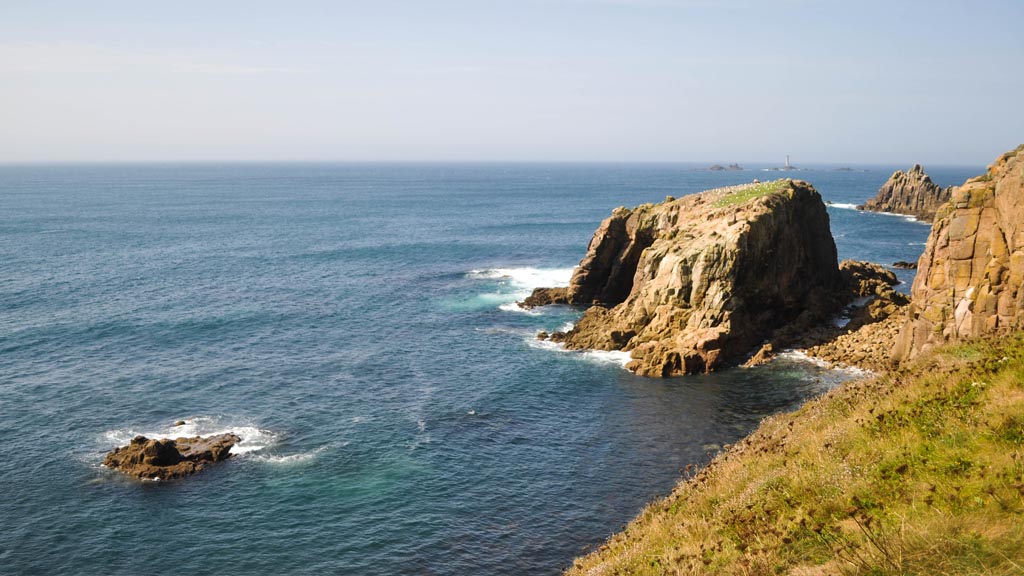 Take caution when taking the path however: the wind from the ocean can travel in at incredible speed, viciously battering and disorienting you, which can be dangerous on the higher peaks.
Kynance Cove
You can't discuss the most wondrous coastlines in Cornwall without giving Kynance Cove a hearty mention. Situated in the southern Lizard peninsula, this Cove is in-part recognised for its captivating 'tidal islands' - sections of land broken away from the mainland but accessible off-water.
The largest (and frankly prettiest) island is elegantly titled Asparagus Island, directly connected to Kynance Cove beach. The detachment of these enormous clumps of magnificent jagged rock creates a unique character, spacing Kynance Cove away from the rest of the coastlines around Cornwall. It's not unusual to find beautifully clear waters surrounding the rocks, either.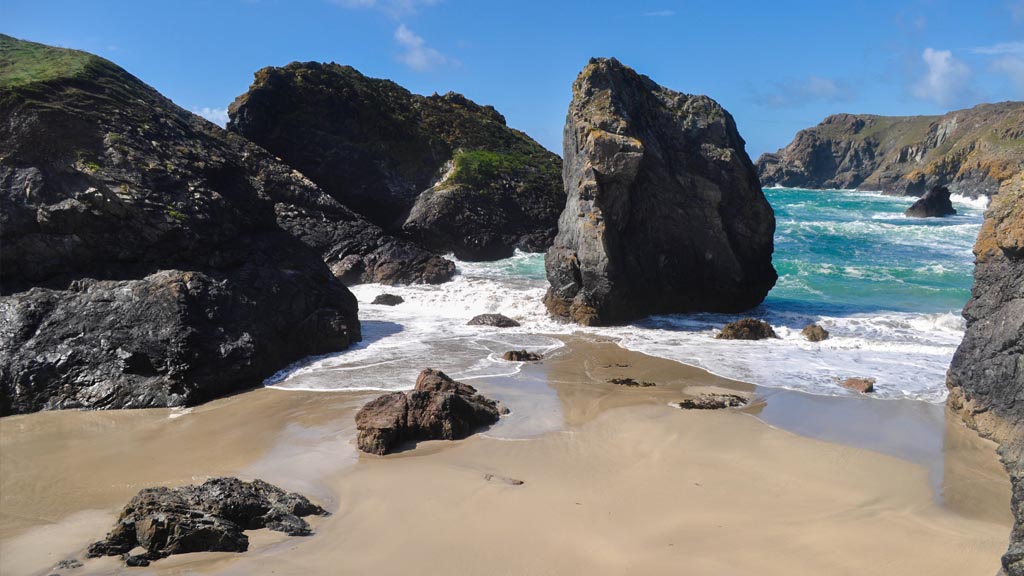 The blackened rocky crust of the coast, the mossy green outer layer, the sandy beach, and the tide washing up on shore collectively create a stunning contrast that no other coast could offer and no photographer would want to miss. 
The south-west coastal path passes over the cliffs of Kynance Cove, with spectacular views from all angles. 
Cape Cornwall
Perhaps most recognisable for the Heinz Monument chimney and now serving as a landmark, Cape Cornwall is another excellent example of picturesque Cornwallian landscape.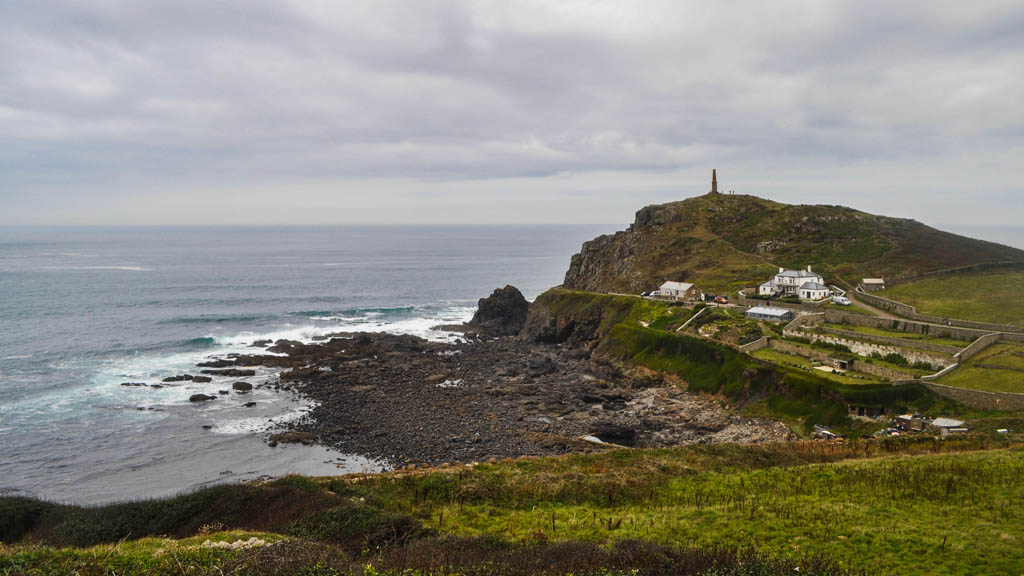 The monument itself stands within a relatively small, steep hill, with the surrounding Celtic sea clashing against it from multiple sides. The ascension via the shortest route to it is short yet challenging (there is a longer, more civilised path available however).
The shore is incredibly rocky - absent of any kind of sand. At low tide, enormous rocks are scattered around the edge of the mainland, with a couple of unused row boats resting on a ramp from land to shore.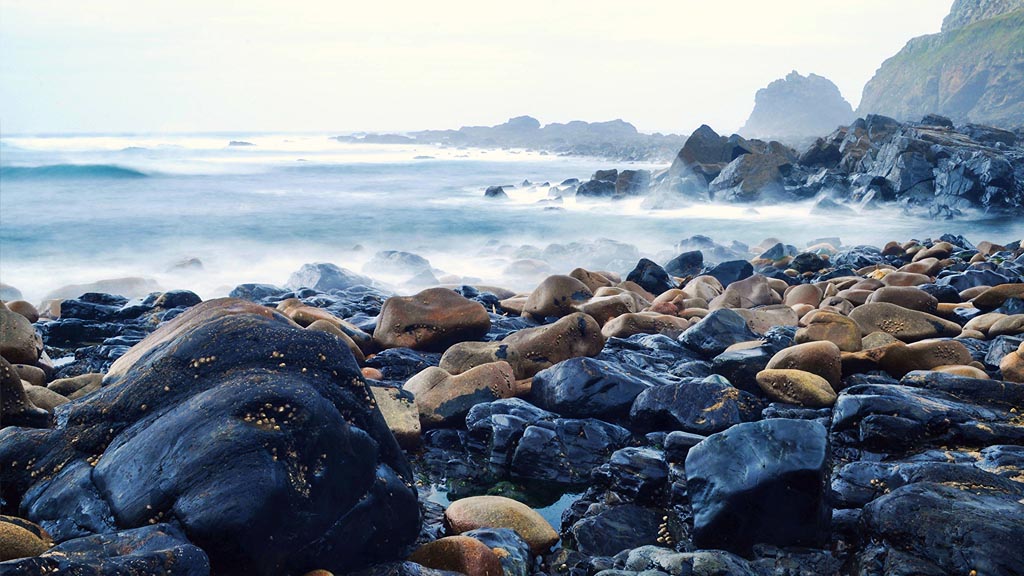 The south-west path allows visitors to reach high above sea-level and opportunity to oversee the monument and neighbouring ocean from a grand viewpoint. 
Porthcurno
Enough of coastlines - let's talk about beaches, specifically the one widely regarded as the most beautiful beach in Cornwall. Unlike typically lengthy beaches, Porthcurno isn't a long and narrow stretch of pure sandy goodness, but rather an isolated opening between two cliffs with nothing but a sandy beach and the glorious ocean ahead.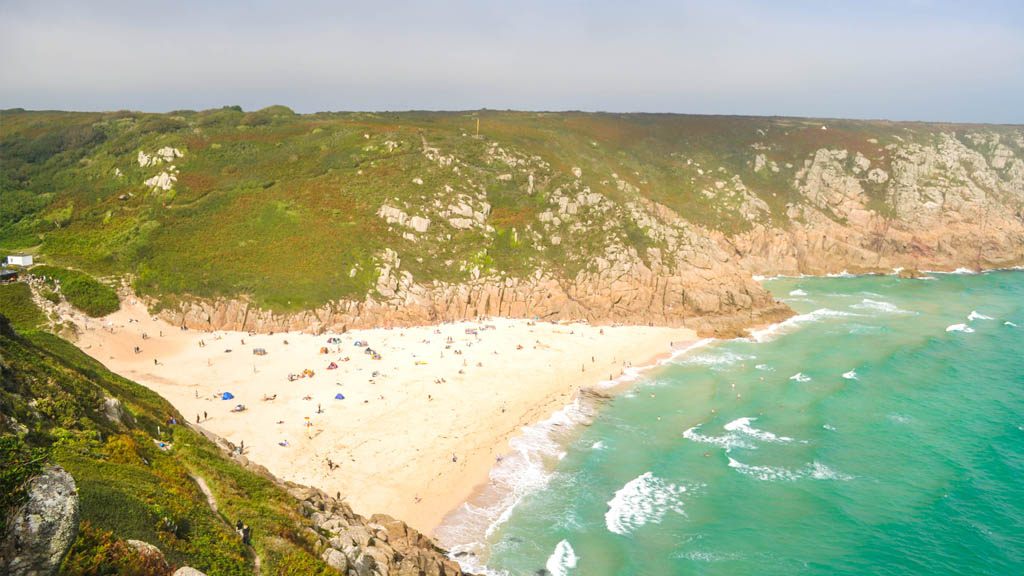 The ocean tide glistens with a stunning array of green and blue when clear, sunny skies are overhead, presenting a mediterranean-esque shoreline irresistible to those looking for a dip in the ocean.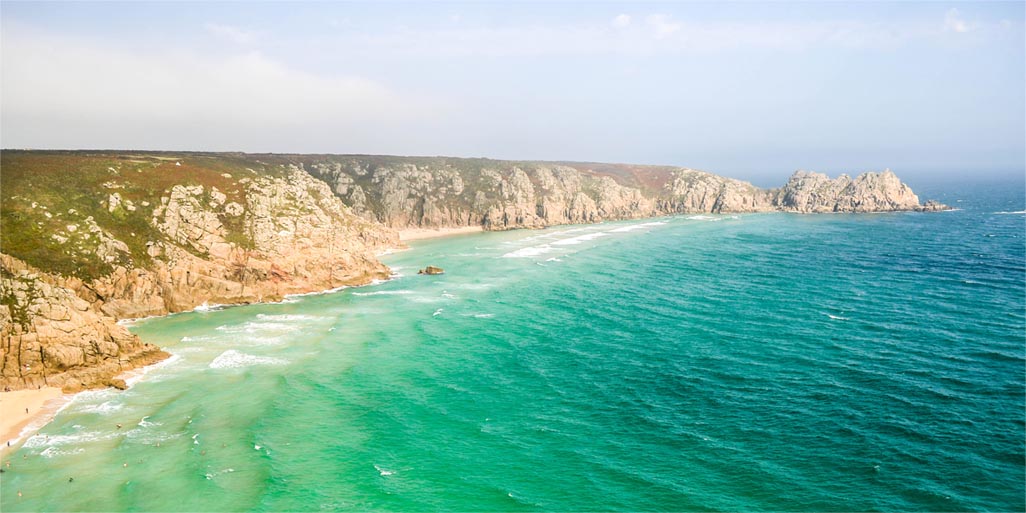 Briefly returning to coastlines, a short climb onto the top of the surrounding cliffs will enable a striking view of the Porthcurno beach and Logan Rock extending out into the ocean in the background.
Cornwall is still Britain, but keep your chin up
Earlier I stated that a key motive to retreat to foreign lands of paradise for a summer escape, like France and Spain, was the fact that we're stuck in Britain, which isn't exactly, well, paradise-y. With a trip to Cornwall in the cards however, consider the positives of such a plan.
You won't have to board a plane if you find air travel makes you queasy. There's no currency exchange involved. There are no language issues to overcome. It may be a new area to you, but it's still 'home'. You'll recognise names, brands and shops, making it much easier to totally indulge and relax without worry. The scenery is jaw-dropping.
Just a handful of good incentives to hop to a British travel agent and book your holiday today.
Comment via Facebook