Helvellyn is one of the most popular walks in the country, being named "Britain's Best Walk" by ITV presenter Julia Bradbury in 2018 (who I totally knew before this blog entry). It was easy to see why: the trails are, well... to repeat myself: clear, forged, simple and incredible.
With various options on the table, I went for the route from Thirlmere up to the top. Let's be honest - the presence of a glorious lake or reservoir following you up a hill or mountain, like it's cheering you on, is a great coping mechanism for exasperation and the sweats while both knees ask you why you continuously put them through this sort of horror.
Leaving the Swirls Car Park to begin my journey (but actually having parked up at a lengthy lay-by slightly further up the A591), the trail starts through a white gate and immediately climbs the hillside. Only minutes in and Thirlmere made its first appearance: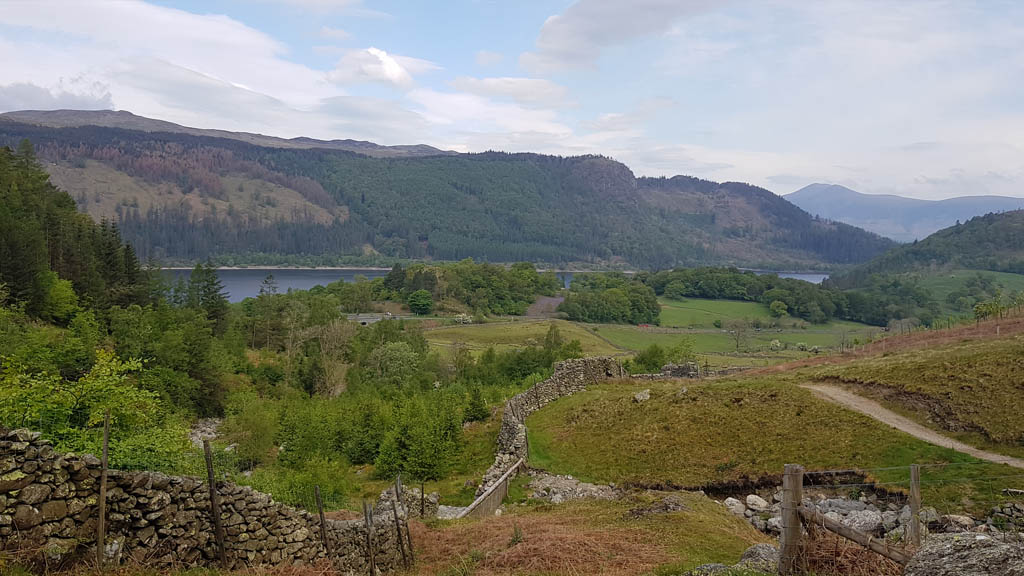 It was almost like passive, positive reinforcement. Rather than playing keep-away with the reward until the very end, drip-feed it with each passing step as it gradually reveals itself. It certainly kept me going as the views got better and better.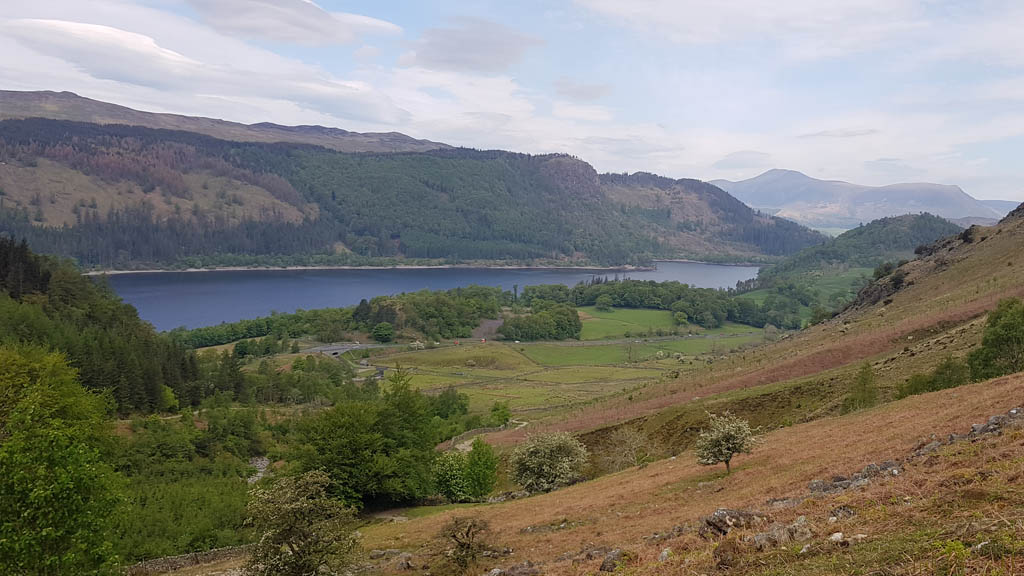 The straight-forward dirt path that had guided us past fields, along rocky walls and across streams eventually turned into a straight-forward rock slabs path. The climb, which was exactly that - travelling directly up with no horizons, continued to weave along the hillside. Leaving traditional countryside scenes of sheep, fences and forests behind and getting to the meat of the Lake District, Thirlmere couldn't completely hide for much longer: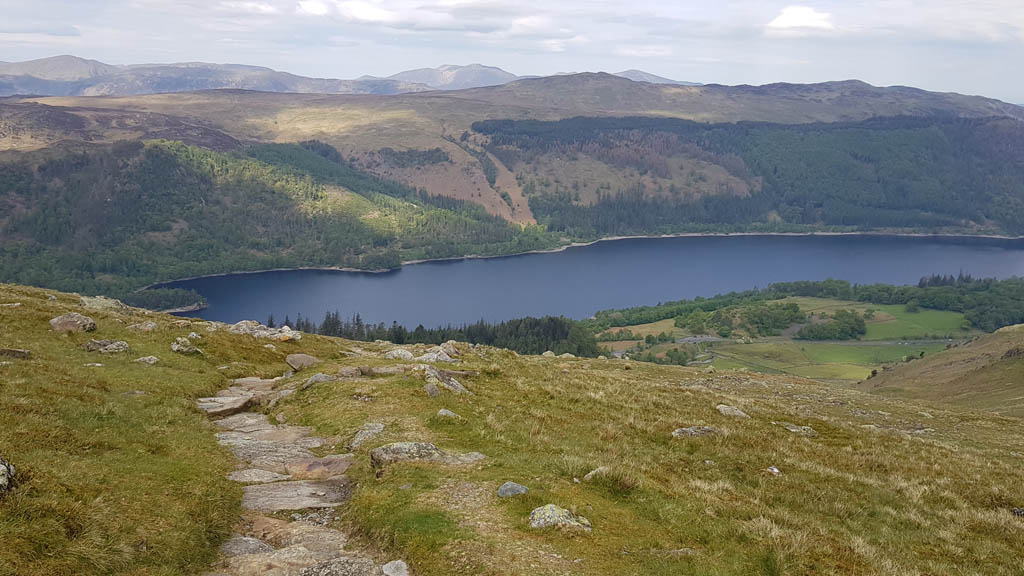 Continuing to stomp along the rock slabs, the path eventually turned to dirt again as I was nearing Helvellyn. Having only been on my legs for no more than two hours with occasional photography stops, I snagged one last shot of Thirlmere coming out in full bloom.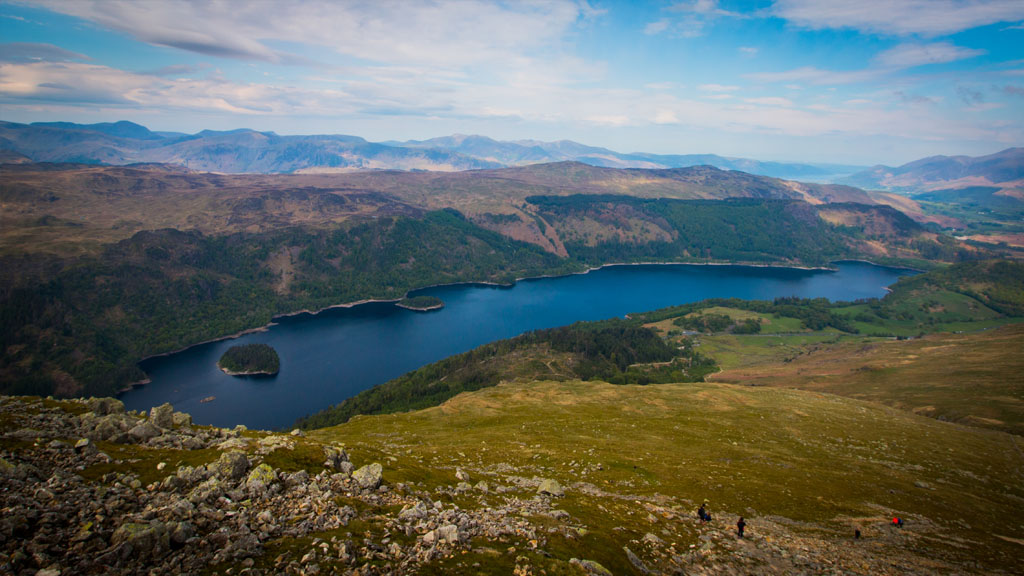 The dirt path began to plateau as the final stretch to the trig point was incredibly easy. It was clear the hard work had been done, and all that was left now was a leisurely stroll a-top of the hills around Helvellyn, with the neighbouring scenery peaking on the horizon. The trail also took me along Brown Cove Crags - an interesting hillside rockier in appearance than its sister hills.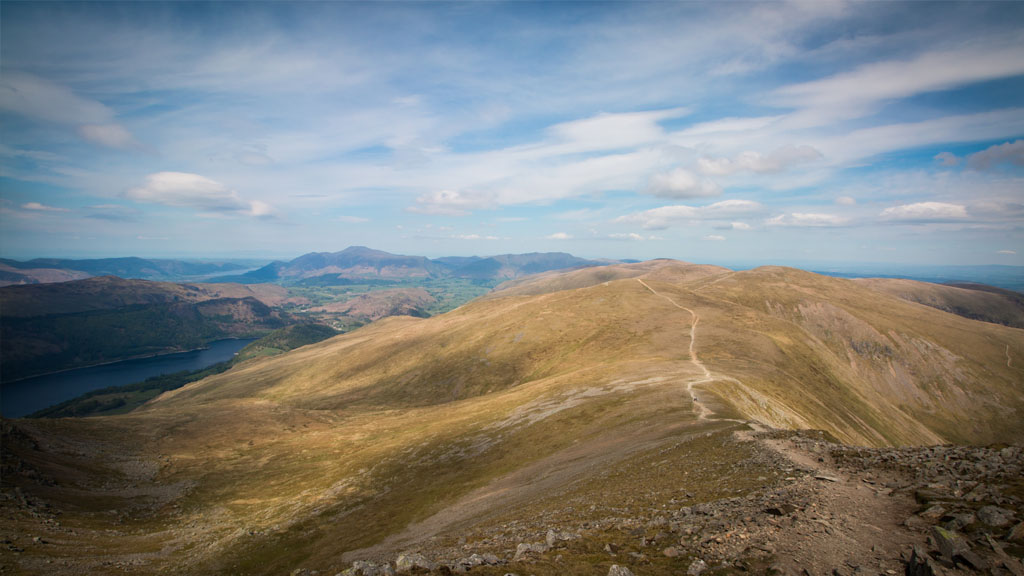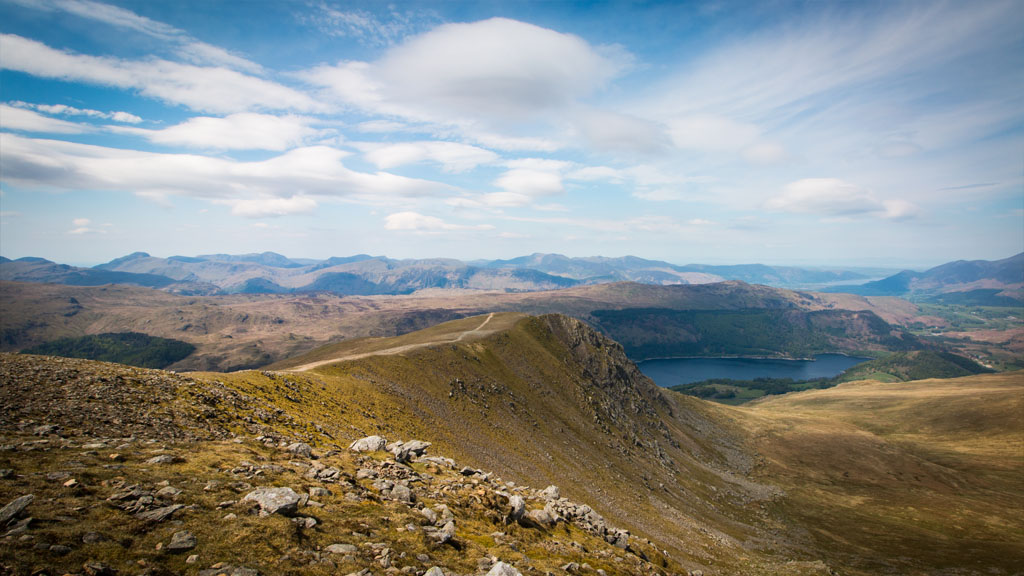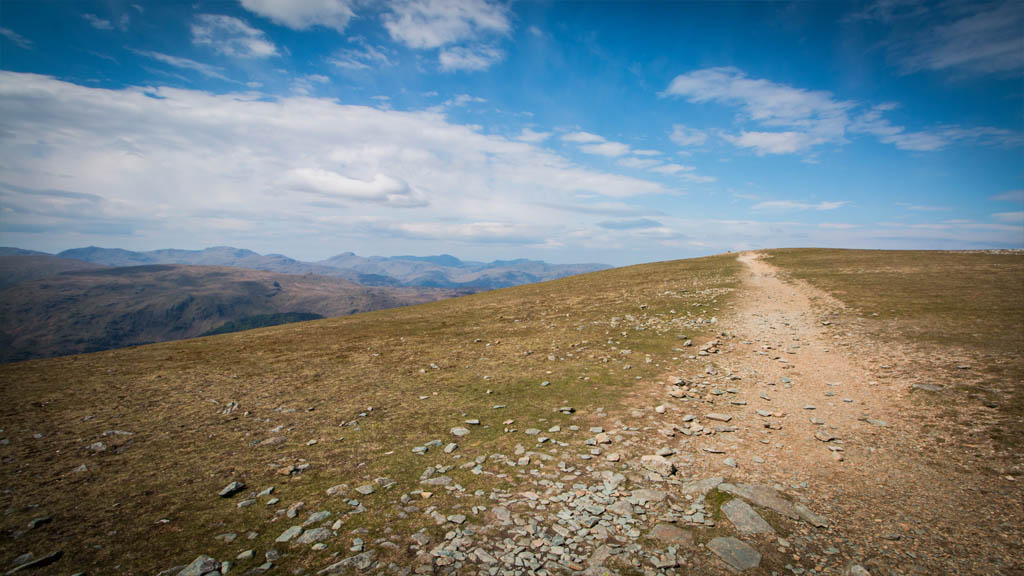 Eventually the trig point became within reach and the mission was complete, just like that, with Ullswater deciding to photobomb in the distance. No complaints here!
It's hard to plan a trip up to Helvellyn without shaking hands with Striding Edge and its long term partner Red Tarn - a pleasant pool of water resting in the valley between Striding Edge and its sister ridge, Swirral Edge.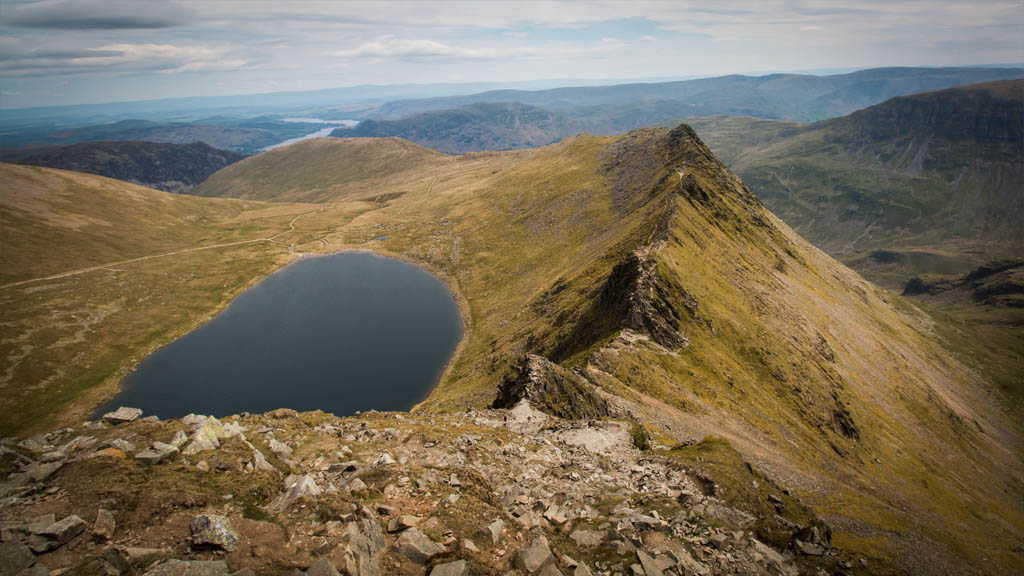 When it comes to compelling scenery, Striding Edge is without any doubt up there alongside Helvellyn when talking about "Britain's best walk". It's almost like the protruding, chiselled spine of a creature in its appearance, with bones bulging at certain points.
It was incredibly windy while shooting up here - like something I hadn't felt in a long time. Undeterred though, I turned around not to retreat but to return to the trig point and explore one of the many alternative paths stemming from Helvellyn.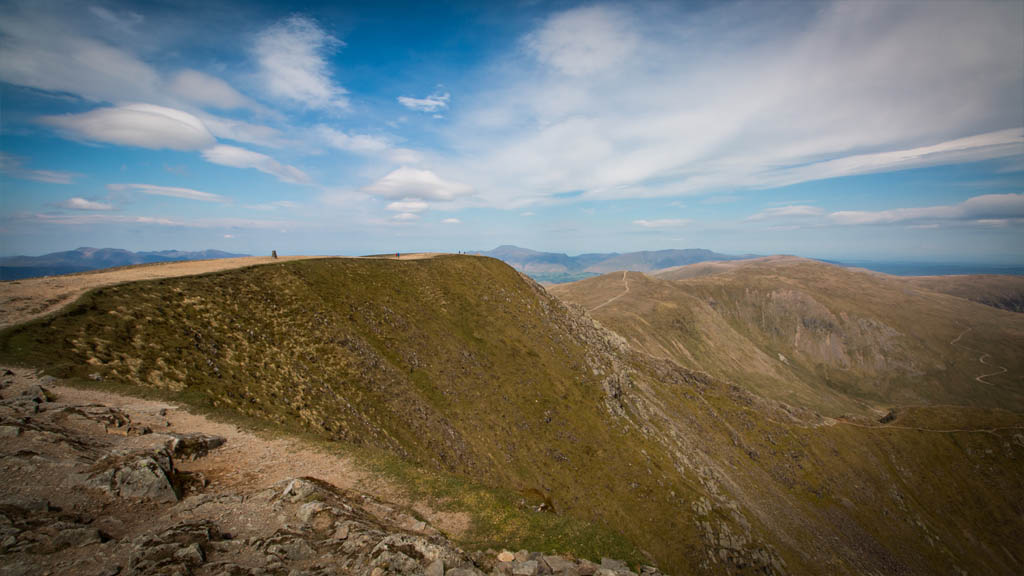 Summing up my experience with hiking to Helvellyn, it's almost the perfect day out for outdoors-y types. It can be reached in a mere couple of hours at a gentle pace, along a variety of connecting and well-marked paths, with stunning views of not just Thirlmere, Striding Edge and Red Tarn, but an impressive chunk of the skyline of the Lake District National Park.
The summit isn't a peaky mountain with tourists queuing to lay hands on the trig point, but rather a very English, virtually flat plain spanning a large surface area on the hills making up this beautiful area - Helvellyn is simply a mark for the highest point on those hills. This means that, once you've left your own mark on the summit, there's plenty of space to check out the neighbouring scenery. And would you look at that? It's only lunch time with still a whole day to explore. Five stars from me!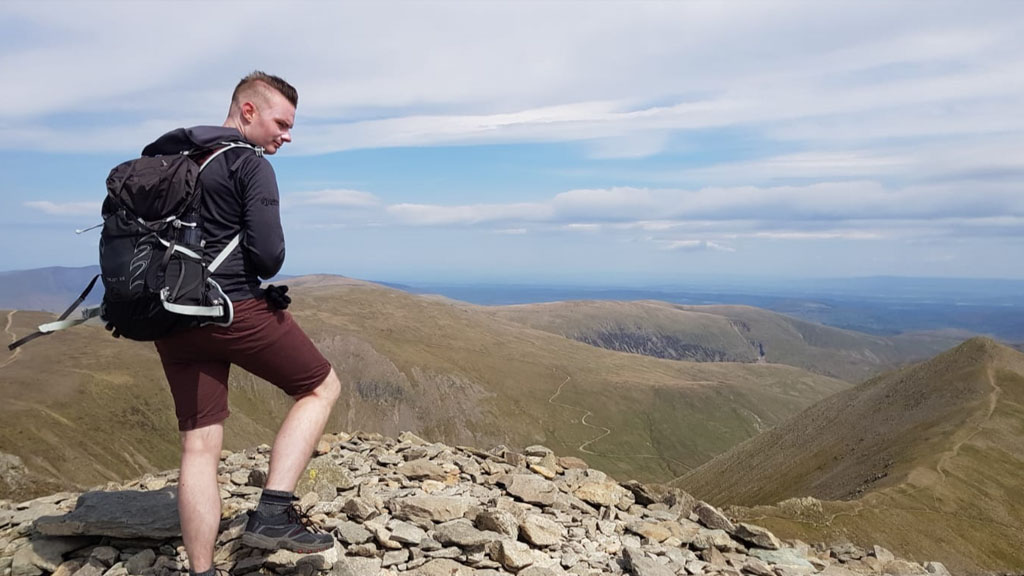 Comment via Facebook