I decided to carry out my first Alps experience very out-of-season in late November for a solid reason: I fancied a last-minute trip to treat hiking anxiety. Good enough, right? Admittedly it was a challenge to uncover viable walking trails not requiring access by ski-lift, but we found enough to keep us busy… including a route to this gem of a lake.
Oeschinen is a relatively small lake tucked away in the mountains near Kandersteg. It undoubtedly carries all the hallmarks of a true alpine lake - glacial, turquoise and able to induce tears at the mere sight of its beauty. Best of all, it could be hiked at any time of year it seems, given we made its acquaintance.
Having parked up near the Kandertal tourist board (which, yes, was closed) at 9am, we set off on the 'Wanderweg zum Oeschinensee' trail, which in essence was a road leading to the lake… but caked in snow, because, well, November. It was eerily quiet and virtually silent for much of the trip, just the sound of our boots crunching into the snow beneath us.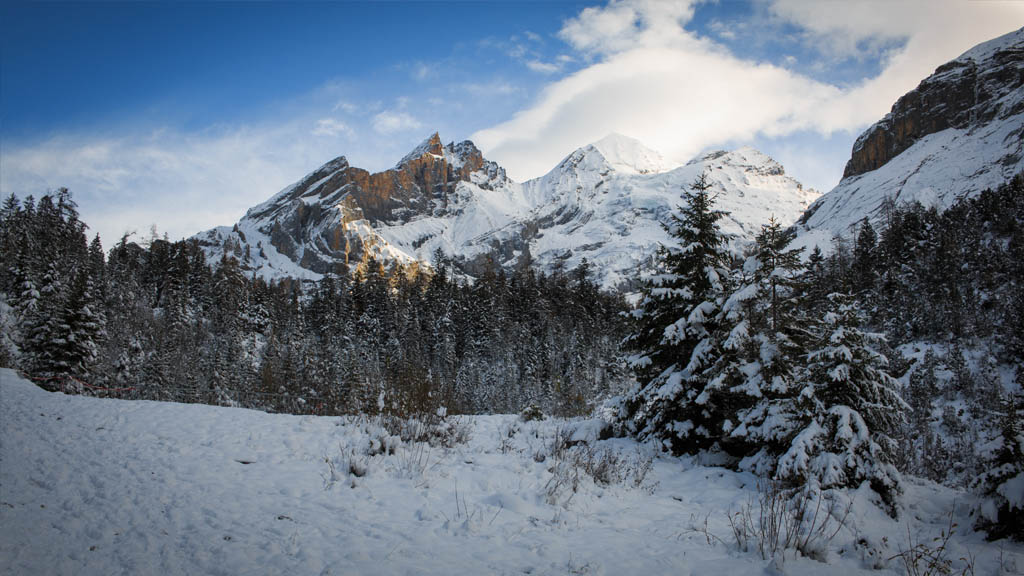 Gradually pacing up the road, with clear skies above, not another person in-sight, and being surrounded by my favourite kind of environment - alpine trees and mountains galore, I was proud of my decision to risk Switzerland and the Alps in winter and for finding this trail. I had died and gone to heaven. This was one of the truly great hiking experiences.
A mere 90 minutes of peaceful plodding had passed and our destination reared its beautiful head. A cross between denim and prussian, Oeschinen Lake appeared not as a summery turquoise but a suitably cold, wintry blue on arrival and wonderfully fitting for the snowy surroundings.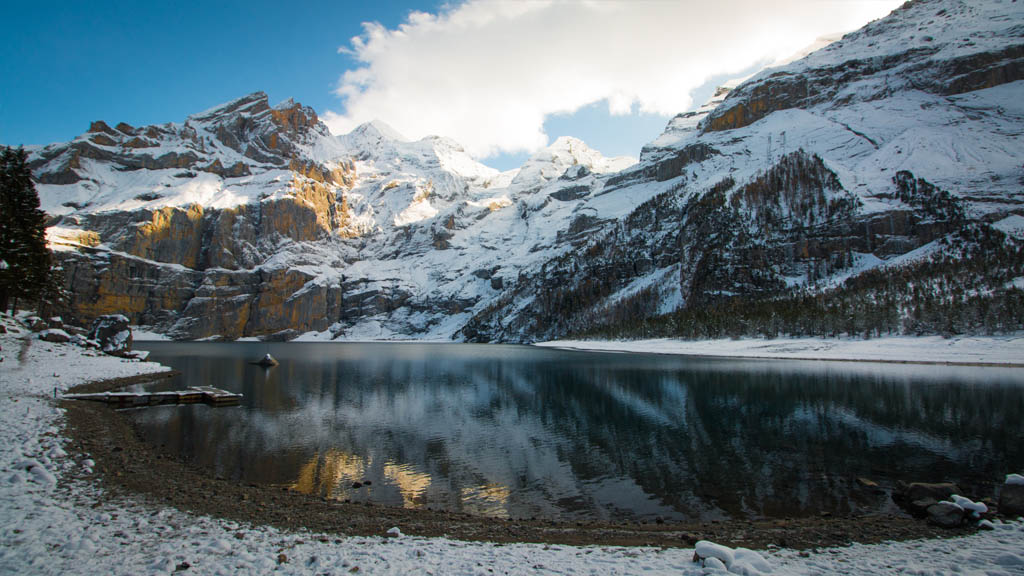 The encircling mountains formed a magnificent backdrop not entirely unexpected of the drama of the Alps. We spent some time collecting the 5,489 photos of basically the same view and the obligatory selfies before deciding that 90 minutes of hoofing wasn't enough. We marched on, around the north side of the lake and switched to the 'Bergweg zum Oeschinensee' path that would eventually lead to Hohürli.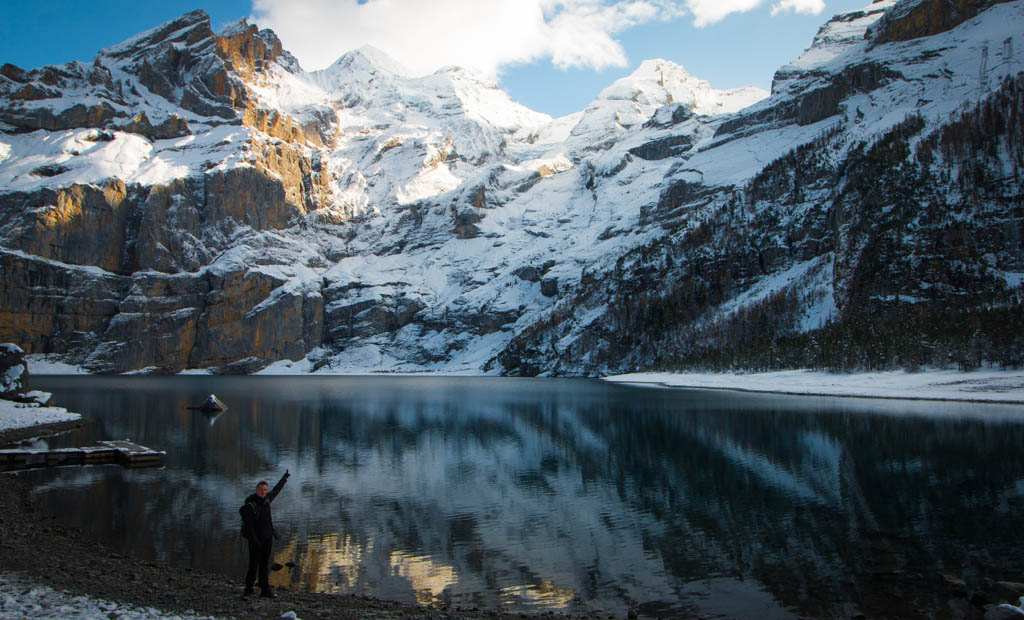 Climbing higher with each step, the path began to cut between the water down below and the mountainside above, and as the morning climate subsided, Oeschinen Lake and its surroundings really started to come alive...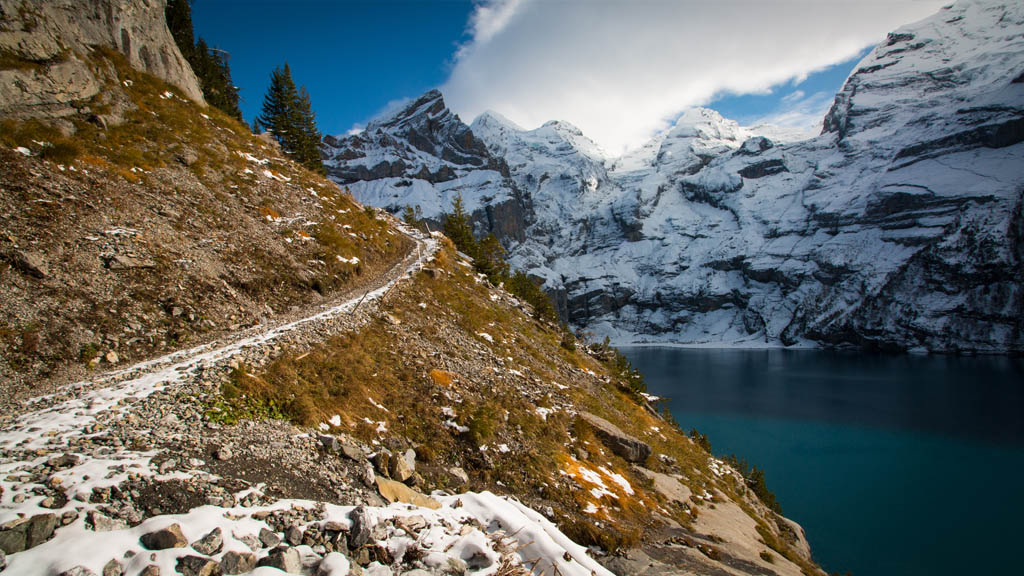 As it happens, we came across a fairly compelling reason of our own not to visit Switzerland in November, or at least avoid this particular trail. We noticed objects falling from the skies - the mountainside further up, to be more precise. Not rain droplets, nor snowflakes or hailstones, but killer icicles the size of kitchen knives. It was genuinely terrifying - like unlocking a secret room with booby-traps in a video game and trying to dodge death with every step.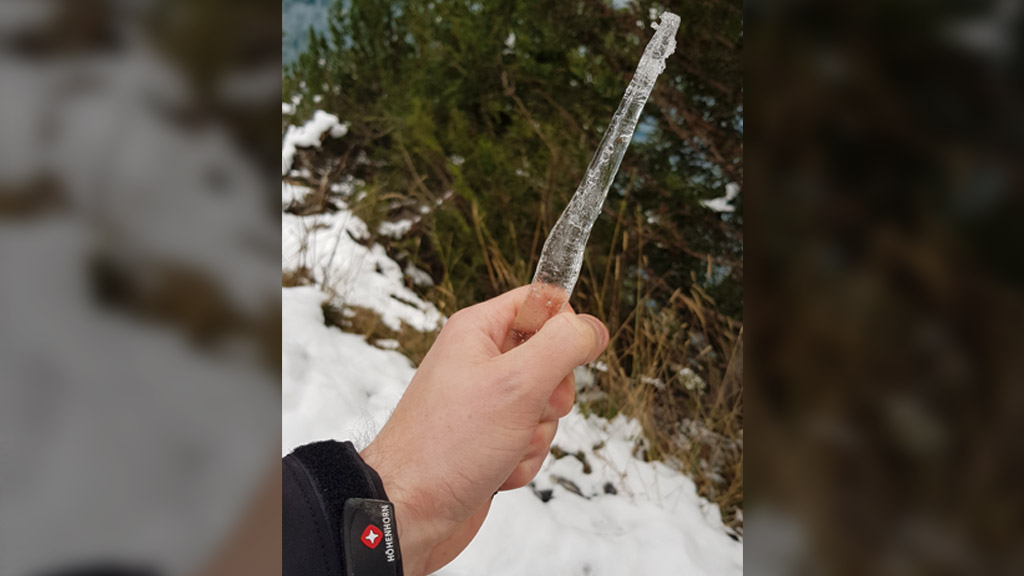 In reality, it was just the result of thawing from the mountainside further up in the mild warmth of the day. We took cover nonetheless beneath the rock face as the path cut into the mountain side, providing safe refuge from Switzerland's numerous attempts to impale us on their frozen sticks of death. A wooden bench had been provided for what turned out to be a marvellous picnic spot with a gorgeous view… whilst hiding from impending doom: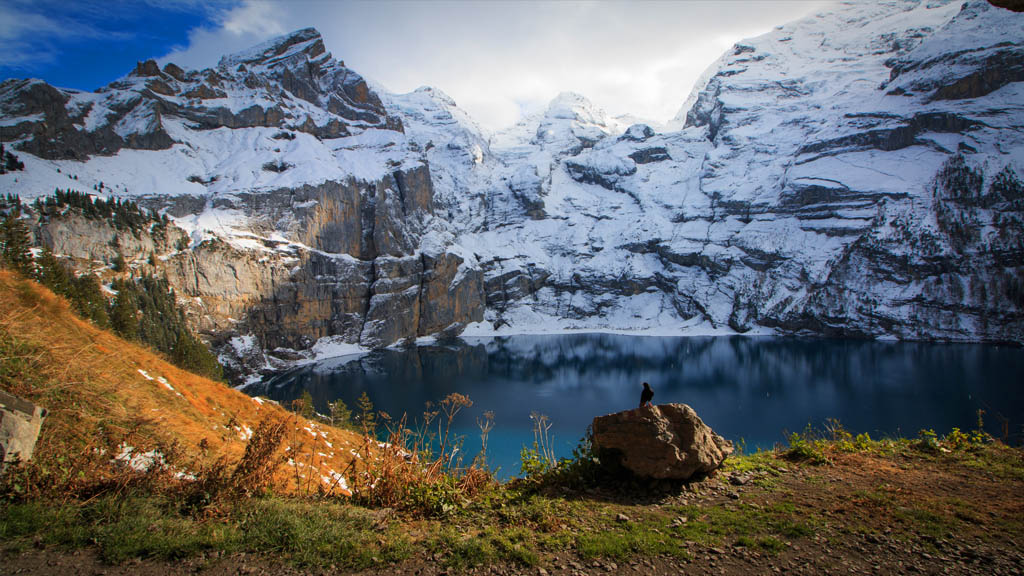 The fading sunlight became apparent as we rolled into mid-afternoon - time was against us to see how far and high we could go. After all, if hiking the Swiss Alps in November wasn't bad enough, I'm sure the Internet would have a stroke if we did it at night time. Not wanting to be stranded in this beautiful yet vicious environment come nightfall, we carried on up the path for just another couple of hours before calling it a day, with a lovely view to reward our efforts.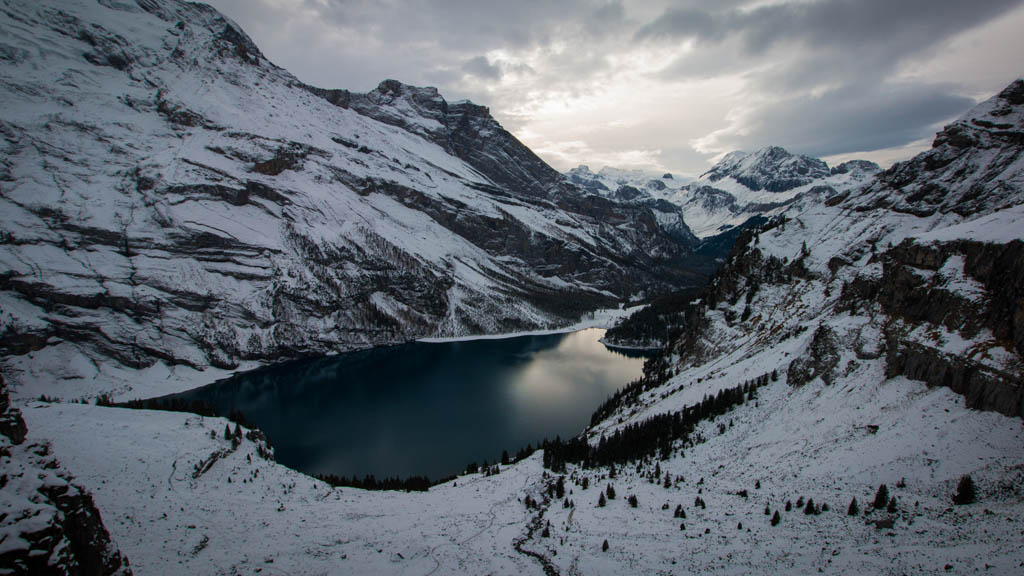 We turned around, trodding the same path back down the mountainside. The Swiss skies turned to white as heavy and rather unwelcoming cloud cover enveloped the scenery, closed in and escorted us back to the lakeside and down the road. I'll take dull clouds over killer icicles any day, though.
No horror stories. No injuries, despite Switzerland's best efforts with their free-falling ice daggers. No problems. Just redefining the meaning of 'peace and quiet', absolutely stunning snow-draped scenery, some of the best mountains I've ever seen, and of course Oeschinen Lake. My winter Swiss Alp adventure was, on this day (and every other day of that trip), a success, and certainly one of the best outings of my life.
Of course, this isn't a sign to ignore the words of the Swiss natives, the hiking experts and, well, the Internet, when they come together to urge caution and generally advise against this sort of thing. My friend and I are very experienced walkers (a couple of decades worth collectively) and we felt comfortable with the task ahead to take it on - safely, intelligently, and never taking things too far. This is simply saying that it is possible to squeeze value from an outdoors-y trip to the Alps in November, but only with the utmost caution and preparation.
Comment via Facebook