That sounded like an annoying, pretentious cliffhanger - my apologies. In this blog post, which you can read here: 5 Reasons to Visit Mallorca in Winter, I detailed reasons to destroy those summer flight tickets to the Spanish island and instead opt for a winter trip.
Last week, I returned from my second and most recent adventure there, and felt I should balance the scales a little. There are truly bucket loads of compelling reasons to jump on Expedia and book your very own visit, but it has to be said that there are negatives that could spoil your trip.
So here we go - a level playing field, as I detail the greatest pros and cons of booking your spell of Mallorca sunshine in the colder, winter months back home.
[Pro]

Surrounded by delightfully deserted scenery

I spent most of my first vacation to Mallorca in Palma (the island capital), back in December 2015, and spoke highly of the resort city's tranquility in the off-peak season in my aforementioned blog post. While undeniable, it was nothing compared to my second trip in the western mountains in late November.
This is Gorg Blau - a reservoir tucked away in-between the striking limestone mountains near the west coast. Despite filming next to the otherwise frequently used MA-10 main road - the only road to pass by these incredibly attractive mountains and reservoirs, the atmosphere was still, silent and just too perfect. Nothing could be seen or heard. The island - at least this small, delicious chunk of it, was all ours.
There just aren't that many visitors in November/December, resulting in the most calm and harmonious of surroundings, making the scenery much easier to take pleasure from.
[Pro]

Fewer tourists made hiking easier

While long walks and mountain hiking may not be to your tastes, and probably aren't top-tier reasons for most visits to the Balearic Islands in peak season, it can be easily said that my escapes to nature and goal to conquer the peaks of Mallorca were easier with fewer tourists around.
Many of the paths looping around the various mountain ranges (such as the one above) in the west aren't for the feint hearted. Some, including the Tossals de Verde trail, can be downright dangerous at times. I found myself clinging to a rusting chain, hammered into a series of massive overhanging boulders, dangling over a gargantuan valley, several hundred metres off the ground.
Needless to say, I'm sure glad there wasn't a queue behind me.
[Pro]

Of course, it was cheaper in Winter

I made this point in my original blog entry, but I feel the need to pick it up and dust it off. This time round I flew with EasyJet (Ryanair's greatest rival in the budget airline dojo) and, as previously mentioned, stayed in the western mountains, as opposed to Palma or nearby towns.

Roughly speaking, the booking made me part ways with the same number of pennies (or cents, if you will) as last time (£60 for the return flight, £80 for a 4 night hotel stay). Upon arrival, it was business as usual - cost effectiveness could be felt all around, in restaurants, bars and shops alike, whether we were scoffing breakfast in Pollença or choking down shots in a mountain bar.
[Pro]

Undisturbed rural and mountain roads, almost

This time round, my travel buddy and I decided to rent a car, to make reaching such island hot spots as the mountain ranges (and basically any coastline we fancied seeing) a lot easier. Not to mention getting to-and-from the airport without sacrificing half of our travel money on taxis either.

Not only did we enjoy the benefits in the cash department, but the roads themselves were just… dead. Well, minus the occasional tourist in a hire car like ours, and crazy locals wishing said tourists would clear off the road.
Palma and small towns like Inca played host to low amounts of traffic on most days, but we were accompanied on our journeys through the west mountains, to the north coast (seen above) and beyond, by very few motorists.
That said, Mallorca is a magnet for keen cyclists, swarms of which launched us into a weird Grand Theft Auto simulator when trying to dodge them on typical, narrow, winding roads. Don't worry - no limbs were lost and no blood was shed.
[Con]

Construction commences upon your arrival

Nobody enjoys, let alone pays reasonable money, to jet off for their dream remote island getaway to find diggers, cranes and construction workers polluting the wonderful scenery.

This was to be expected in some ways. There is absolutely no way the island officials would permit roadworks during the lucrative peak seasons. Therefore, shrewd holidaymakers looking to escape the busy periods and save a few cents along the way in the chillier months will likely suffer.
[Con]

Low temperatures can dip into single digits

A tan in winter? It can't ever happen, right? Wrong - it can, if you can avoid the shade that is.

I basked in wonderfully refreshing 20-25°C on both trips to Mallorca, when sat beneath uninterrupted sunshine that is. On some days the lowest temperatures dipped to less than 10°C. Hang on, just swapping out the beach shorts for a pair of heavy, denim jeans...

Simply put, winter heat is frequently a real thing in Mallorca and the rest of the Balearic Island clan, but avoid dusk, dawn and shade if you forget your mittens.
[Con]

Plan on eating out? Perhaps stick to the hotel kitchen

This wasn't such a problem the first time round, so much so that I dismissed it as a problem altogether. That was when staying in the comfort of Palma, a location that thrives on the hospitality, with restaurants playing a key role.

I hadn't fully considered this problem when residing in the mountain region for 4 nights - and it was definitely a problem this time. Sure, there were around a dozen restaurants scattered within a 20 mile radius, however most of them were closed for the off-peak season and learning the opening times for the those remaining open was challenging.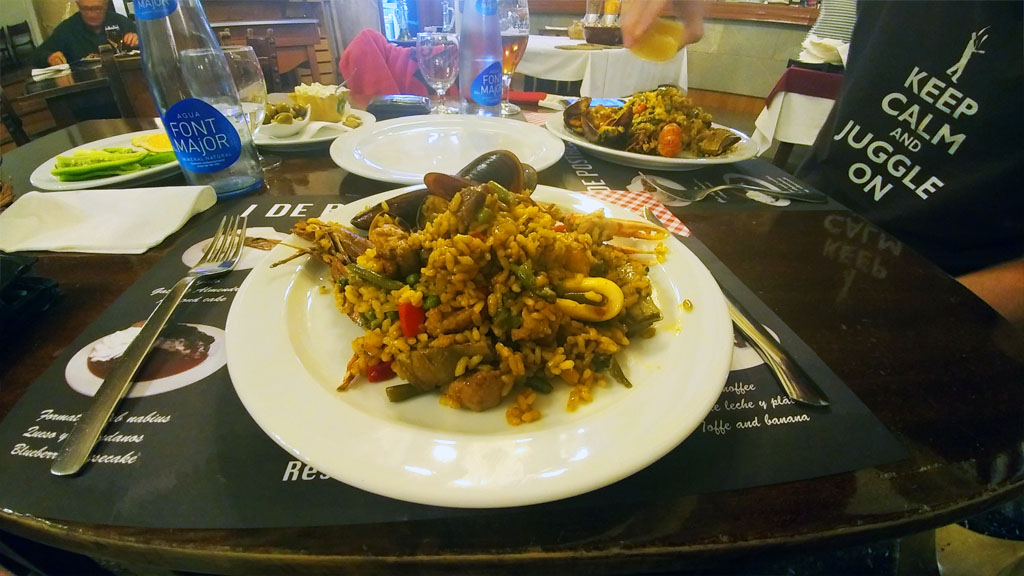 This became greatly frustrating, bouncing from restaurant to cafe to diner, all closed, with tummies grumbling ever louder. Luckily the hotel restaurant came to our rescue on numerous occasions, in the form of paella. I do love paella.
[Stalemate]

Introducing: the tourist tax

Hide your beach balls - you're about to get a kick in the nuts. In 2016, a new tax on sun seeking holidaymakers to the Balearic Islands dubbed simply the "tourist tax" came into effect, and it will kick you - hard.

With the intention of funding sustainable projects across the four islands - including Mallorca, the tourist tax has many fans of the islands up in arms.

Down with sustainable projects, yeah! Just kidding. If their intentions are true, I'm fully behind the funded preservation of these beautiful islands, especially considering they're typically at the drunken mercy of British hooligans.

In peak season, an ordinary couple can expect to pay up to 50 euros for a week-long stay, while in winter the cost mimics the temperature and drops to around 10 euros. The tax is inevitable, so this is a tick in the 'pro for winter' column.
So, should you just pack summer swim shorts, or a winter scarf too?
In all honesty, having spent 7 nights over 2 trips to Mallorca in the season to be jolly, I would confidently tear up those summer brochures, go again and indeed take my scarf just in-case.
The negatives almost provoke a traditional summer break, I won't lie, but in the end they're dwarfed by the positives. It'll undoubtedly be cheaper in winter, particularly when tossing in the recently emerged tourist tax, as well as being quieter, easier to explore, and even safer. If I have to endure noisy diggers in downtown Palma while avoiding the cold shade on some days, so be it.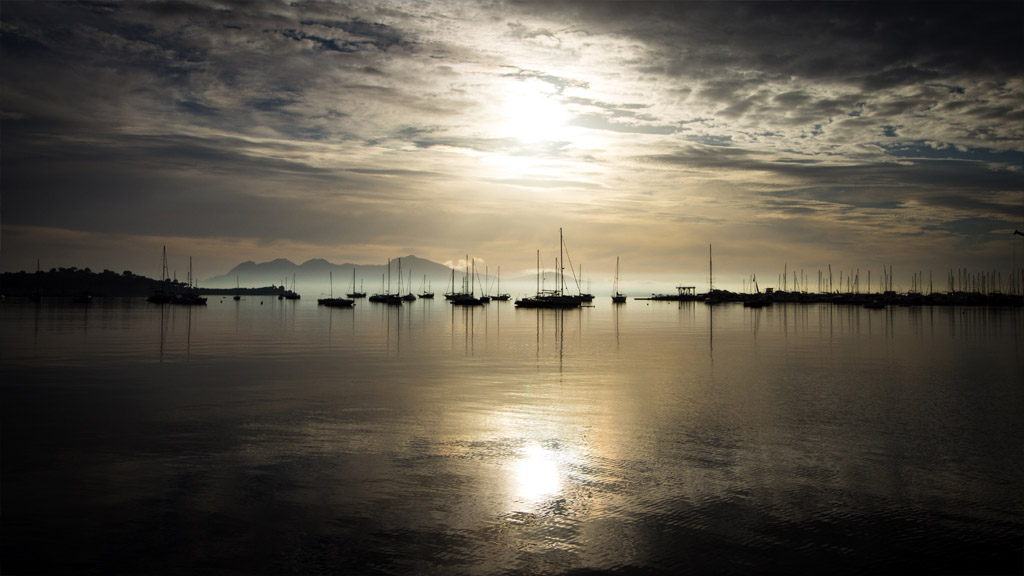 The best advice I can give is to plan and prepare, particularly when it comes to eating out. If you know where you're staying, research restaurants accessible near you, and even telephone or email them if possible to confirm whether they'll be open or not, and at what times. Just like you would book an ordinary meal back home.
Oh, but don't forget the mittens. Just in case.
Comment via Facebook